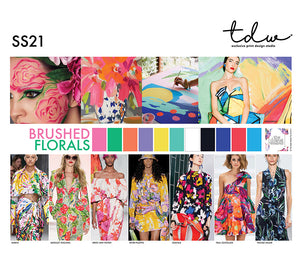 TREND Brushed Florals A3 Digital File
Spring/Summer 2021 BRUSHED FLORALS Fashion Trend Board 
First row includes: Inspirational Images 
Second row includes: Colour Palette
Third row includes: Evidence of Trend Catwalk Images and Designer Reference
High Resolution 300dpi digital download at A3 scale
Flat jpeg file
Not Transferable / Not for Resale / Royalty Free
SS21 BRUSHED FLORALS  We are getting very arty for Spring/Summer 21
with hand painted florals and cut-out motifs in gorgeous pastel brights
here at The Digital Weaver Studio. We've used brushed techniques and blocks of colour to create loose textured florals and non-floral designs. Look for bold open blooms and abstract foliage. The palette offers a fun-filled newness with cool pink hues, soft reds, warm orange shades & zesty yellows. Set against fresh white, aqua tints, minty teal shades and Pantone's colour of the year classic blue. Highlight tones range from lilac shades to cool grey tones and pops of black.


---
We Also Recommend